• Class II luminaire
• Cast aluminum body in which the equipment is housed.
• Laser cut aluminum cladding 400mm x 245mm
• Moving light made up of: an inverted conical diffuser in sandblasted polycarbonate, either white or mass-tinted in 2100K orange-red transparency to accentuate the flame effect.
• RAL / Akzo Nobel powder coating of your choice, seaside option on request
• Versions available: Double source (Lolita + LEM), single Lolita, single LEM.
• OPTICAL BLOCK:
– Lum'en mouv option: Optical unit equipped with a specific flexible PCB equipped with 8 programs allowing you to modulate the impression left by the flickering of a flame. 2700K as standard.
– Color temperatures: 2700K as standard
– Pre-wired HO7 RN-F flexible (Length depending on equipment)
• EQUIPMENT integrated into the body of the luminaire:
– Ambient lighting (Lum'en mouv): Dedicated driver
• ELECTRICAL PROTECTION:
– 10kV surge protector on request
– Varistor on request
• All our components are ENEC certified
• STANDARDS :
• Covering end piece on 60mm top of pole.
Wall console option on request.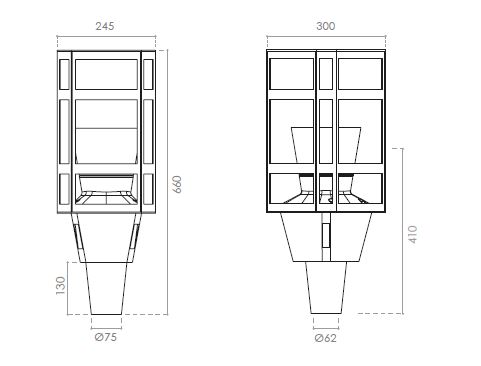 Eligible for energy-saving certificate
ENEC-certified components
RoHS
DEEE PRO member
CE 1166
ISO 9001
ISO 14001
Meets the requirements of the Decree of December 27, 2018 on the prevention, reduction and limitation of light pollution.