• Square aluminum profile 115x115mm, Height 1000 or 1200mm
• Luminaire body in injected casting 300x115mm
• Access to the equipment via door
• Fixing plate with center distance 200x200mm as standard
• RAL powder coating of your choice, seaside option on request.
• Finish: Bi-tone possible at no extra cost
• IP66 OPTICAL BLOCK:
– Class II lighting
– 4 LEDs
– PMMA lenses
– Optics: "R"
– Lifespan for 3000K: L90B10 100000h
– ULR < 1%, CIE flux 3 code > 95%
– Color temperature: 3000K as standard. 2700K, 2200K possible
at no extra cost and 1800K optional. BioDiv© system optional, on project.
• EQUIPMENT remote in the pole :
– IP66 waterproofing
– Fullprog driver
– Tight connector for wiring between luminaire and driver
– Optional: electrical connection box with terminal block and cut-off circuit
• OPTIONS:
– Presence detection
– Electrical outlet
– Other optics on request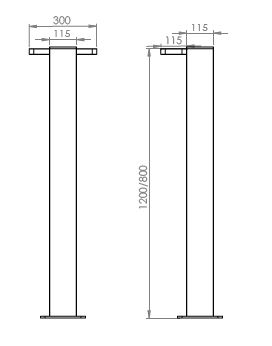 Eligible for energy-saving certificate
ENEC-certified components
RoHS
DEEE PRO member
CE 1166
ISO 9001
ISO 14001
Meets the requirements of the Decree of December 27, 2018 on the prevention, reduction and limitation of light pollution.