• Luminaire classe II
• Dôme étagé de section ronde, diamètre inférieur 485mm, diamètre chapiteau 180mm, hauteur 340mm, en aluminium repoussé.
• Fixé sur le plateau : Corps Lolita monobloc en fonderie d'aluminium injecté sous pression Ø370mm
• Vasque LOLITA scellée sérigraphiée :
– en verre plat IK08, en standard
– en polycarbonate IK10, sur demande
• Nervures aluminium entre les PCB pour réduction de l'éblouissement
• Option : – Vasques thermoformées de style classique en PMMA ( 2 modèles)
– Couronne en option, découpée laser et rivetée
– Graphisme personnalisable sur demande
– Lyre voile ou classique
– Formes de jambage en version portée
• Thermoloquage RAL / Akzo Nobel au choix, option bord de mer sur demande
optional basins
(*)In compliance with the 2018 decree applicable only
in heritage zones, parks and gardens,
and economic development zones
• OPTICAL BLOCK:
– Lifetime L90B10 100000h
– Luminous efficacy up to 135 lm/W
– LED source flux from 1000 to 18000lm
– PMMA optical lenses
– Aluminum PCB (4 maximum)
– Optics: Road (R), Semi urban (SU), Urban (U), Square (P), Bicycle path (PCY), Pedestrian crossing, Architectural.
– Color temperatures: 3000K, 2700K, 2200K, 1800K (4000K, on request) – Optional coexistence of 2 color temperatures*.
– Pre-wired HO7 RN-F flexible 6m
– ULOR < 1%, ULR < 4% (in situ), CIE flux 3 code > 95%.
• APPARATUS integrated in the dome :
– IP66 sealing
– Optional antenna socket (Zhaga, Nema)
– Driver Light prog, Driver Full prog (with DALI output on request), Driver SR or D4I and plug, optional
* Additional driver for mixed temperature option
• ELECTRICAL PROTECTION :
– 10kV surge protector on request
– Varistor on request
– All our components are ENEC certified
• STANDARDS :
Carried with 2 curved extruded aluminum arms on a cast aluminum overlapping node for 60mm top mast.
In suspended version in 34 PdG, without arms.
Other bows in option.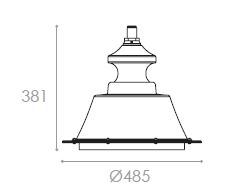 Eligible for energy-saving certificate
ENEC-certified components
RoHS
DEEE PRO member
CE 1166
ISO 9001
ISO 14001
Meets the requirements of the Decree of December 27, 2018 on the prevention, reduction and limitation of light pollution.