• Round lolita light fixture, class II
• One-piece body in die-cast aluminum casting Ø370mm
• Sealed, screen-printed LOLITA bowl :
– in IK08 flat glass, as standard
– in IK10 polycarbonate, on request
• Aluminum strips between PCBs to reduce glare
• RAL / Akzo Nobel powder coating of your choice, seaside option on request
• Upper dome in spun aluminum
• Transparent thermoformed polycarbonate basin. Ø390 / 610mm.
Height 275mm
• Dedicated mast total height 4 or 6m, in hot-dip galvanized steel, specific central fixing.
• OPTICAL BLOCK:
– PMMA optical lenses
– Aluminum PCB
– Optics: Road (R), Semi-urban (SU), Urban (U), Square (P), Cycle path (PCY), Pedestrian crossing, Architectural.
– Color temperatures: 3000K, 2700K, 2200K, 1800K (4000K, on request) – Coexistence of 2 optional color temperatures*.
– Cable gland
– Pre-wired HO7 RN-F flexible (Length depending on equipment)
– ULR < 1%, ULR < 4% (in situ), CIE flux 3 code > 95%
• EQUIPMENT remote at the base of the mast:
– IP66 waterproofing
– Optional antenna socket (Fixing depending on configuration)
– Driver Light prog, Driver Full prog (With DALI output on request). SR or D4I driver and socket, optional
* Additional driver for temperature mix option
• ELECTRICAL PROTECTION:
– 10kV surge protector on request
– Varistor on request
• All our components are ENEC certified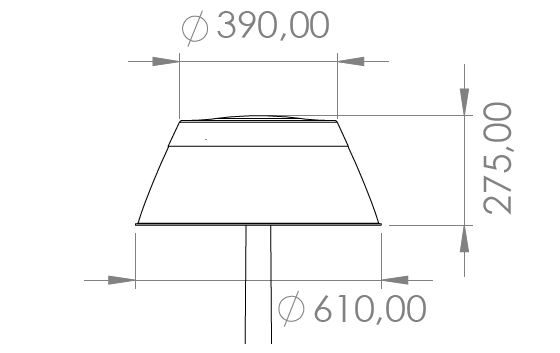 Eligible for energy-saving certificate
ENEC-certified components
RoHS
DEEE PRO member
CE 1166
ISO 9001
ISO 14001
Meets the requirements of the Decree of December 27, 2018 on the prevention, reduction and limitation of light pollution.