• Class II
• IP 65 tightness
• Impact resistance: IK08 Glass and PMMA (Polycarbonate IK10)
• Dome in spun aluminium, finished in the same way as the body (two-colour optional).
• Ring in cast aluminium.
• Glass diffuser as standard, polycarbonate diffuser for optional versions: fixed by quarter turn to the body of the luminaire.
• Choice of RAL / Akzo Nobel colour scheme, seaside option on request.
• OPTICAL BLOCK :
– Optical lenses in PMMA
– PCB Gen5: 5 maximum
– Optics: Road (R), Semi urban (SU), Square (P), Cycle track (PCY), Pedestrian crossing.
– Colour temperatures: 3000°K, 2700°K, 2200°K, 1800°K
– Double temperature on request 1800°K/3000°K or 2200/3000°K
– Cable gland
– ULR < 1%, ULR < 4% (in situ), CIE flux code 3 > 95%.
• APPARATUS INTEGRATED UNDER THE TOP COVER :
– System power 40, 75, 110 & 150 W
– Driver type Xitanium or similar
– Optional dimming and remote management
– D4I option and plug
• All our components are ENEC certified
•FDS: suspended mounting: Ø 34 pdg sleeve (Ø 27 pdg mounting optional). Orientation of the optic blocked by a lock nut.
• FDL: lateral fixing: by Ø 60-62 mm fitting. Orientation of the optic blocked by a lock nut.
• LYRE
• Mast top adapter option Ø 60mm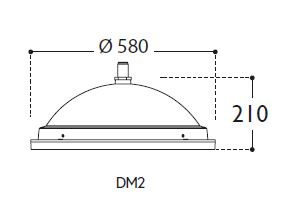 Eligible for energy-saving certificate
ENEC-certified components
RoHS
DEEE PRO member
CE 1166
ISO 9001
ISO 14001
Meets the requirements of the Decree of December 27, 2018 on the prevention, reduction and limitation of light pollution.